The perfect match for QLED
Samsung Soundbar HW-Q70T
Experts in sound innovation
Samsung Audio Lab
Tested and tuned at the California Audio Lab, where our world-class audio engineers apply the advanced acoustic technologies and cutting-edge computer modeling to give you perfectly balanced, room-filling sound.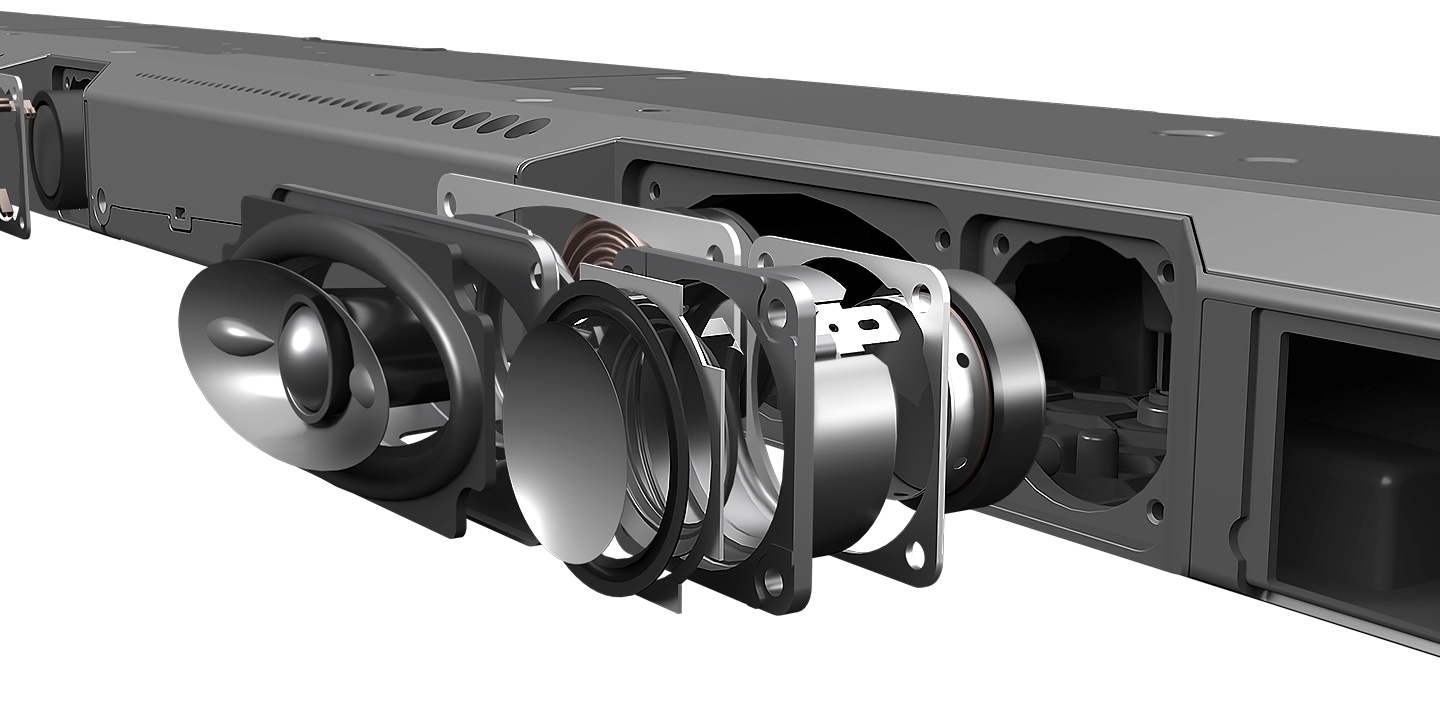 "Our focus starts at the ear of the listener, then expands out to the listening environment – the transducers (woofers and tweeters), amplifiers, and digital signal processors (DSPs)."
Elevated sound from every direction
Explore the depths of sound with Dolby Atmos and DTS:X. The two let you hear each distinct sound as it flows around and above you, just as you would in real life.


Q Soundbar and TV, the perfect harmony
Q-Symphony
The Soundbar Q70T syncs with your Samsung TV, together creating immersive sound. It combines and enhances sound through the soundbar's speakers as well as the TV's speakers, giving you a new level of acoustic immersion so you can experience content like never before.

Immersing you in captivating sound
True 3.1.2 sound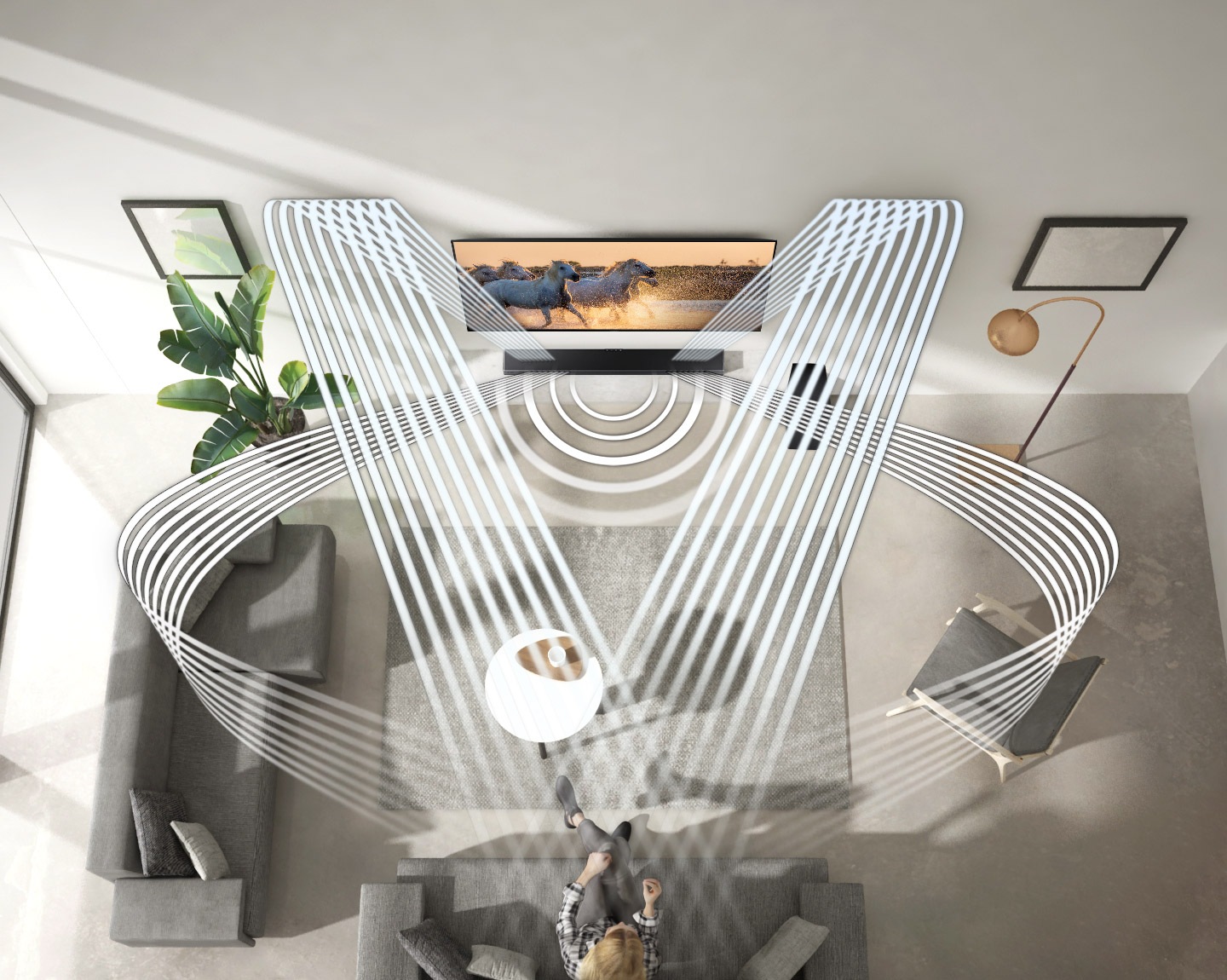 With 3 channels, 1 subwoofer channel, and 2 up-firing channels, you get sound that moves for captivating entertainment. A great match for your QLED TV, feel one with the story as you're surrounded by a complete audio environment with true 3.1.2ch sound via Samsung Acoustic Beam.

Music comes alive with your voice
Works with
Can't recall the title? Enjoy your Soundbar hands-free using Alexa voice control. Ask Alexa to play something by simply saying the title or a few lines of the song's lyrics. No matter what kind of music you're in the mood for, Alexa will find it.
* An Amazon Echo Device is required to use this feature. This service is provided by Amazon and can be terminated at any time.
** Some features and functions provided by connected devices may limited or not be supported to use.
Hear better. Play better.
Game Mode Pro
Brace yourself for a powerful, immersive gaming experience with subwoofers that enhance the scene and up-firing speakers that provide incredible surround sound. The soundbar automatically switches to Game Mode when connected to your Samsung TV so you can focus on playing, not setting up.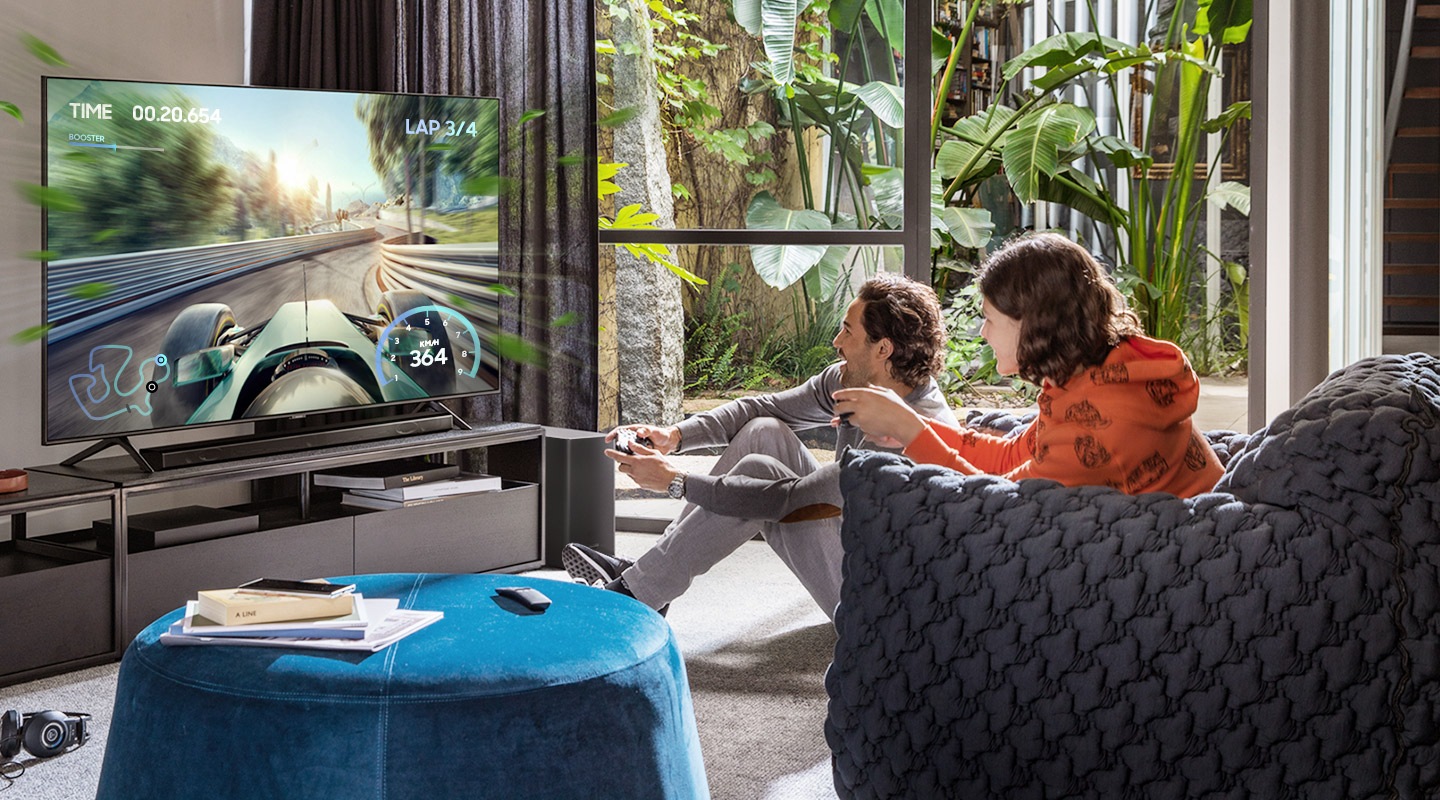 * Compatible TVs and game consoles only. (over Xbox one, PS4, Nintendo Switch)
** Game console sold separately.
*** Compatible devices may vary.
A sound connection boost
HDMI eARC
With HDMI eARC, you can hear quality, lossless sound even when connected to other devices via your TV like DVD players or game consoles
Sound as good as the picture
Seamless HDR 10+ experience
Experience the sensation of sound in HDR 10+ content as you should. When you connect HDR 10+ content to the soundbar through other devices, you get lossless, nuanced audio to match detailed picture.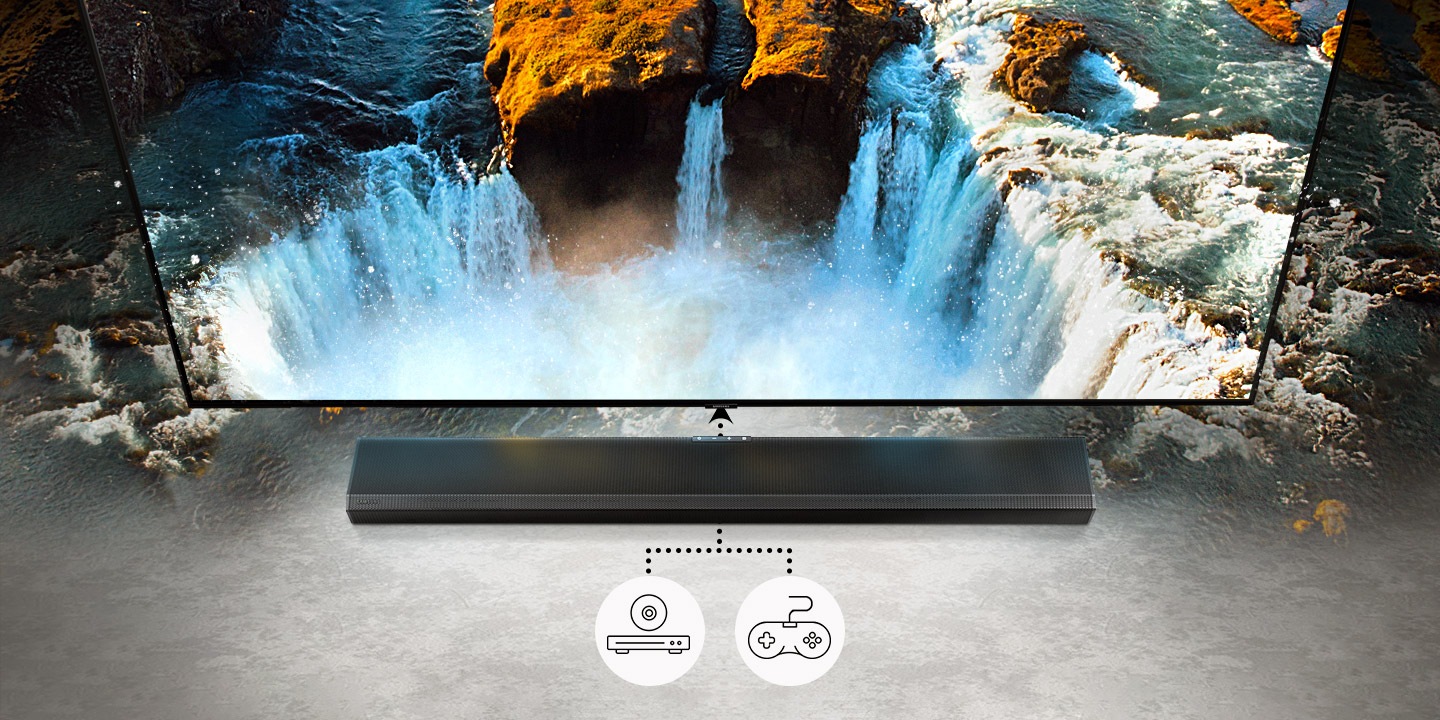 * HDR 10+ picture quality output available with equivalent input.* Compatibility with all HDR content is not guaranteed.
A world of sound with one remote
One Remote Control
You don't need several remotes. Control key soundbar functions like power, volume, and even sound effects with the Samsung TV remote — right from your TV.
* Function and remote control design may vary by TV model and region.
** Compatible with selected Samsung TVs. Please check the Samsung TV's specification.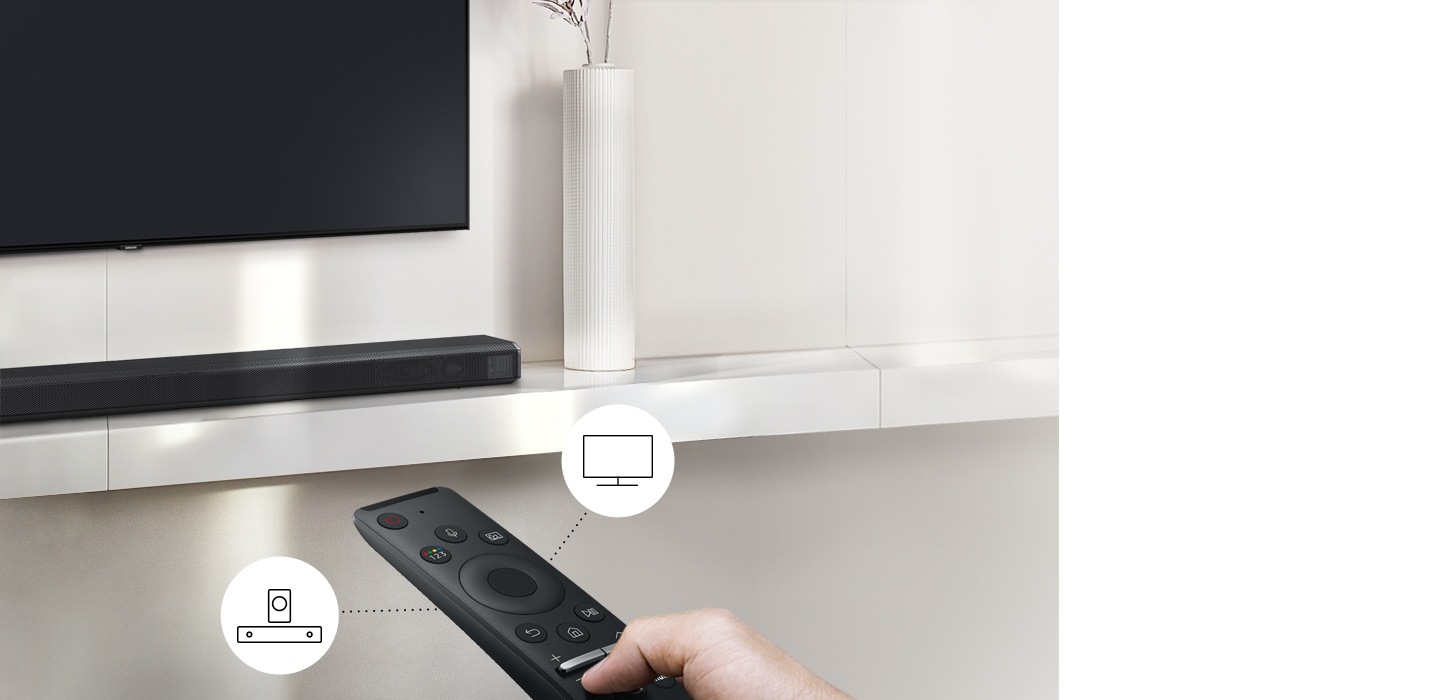 One app to listen smart
SmartThings App
Take connected living to the next level. SmartThings app lets you add your speakers to your network, giving you greater control over your audio throughout your smart home.
* Each device must be connected to Wi-Fi or other wireless network.
** Must download and install the SmartThings app.
*** For interoperability through SmartThings, all the devices should be registered with a single Samsung Account.
**** Available functions may vary by region, service provider, network environment, or mobile device, and are subject to change without notice.